In this Holiday season and time of giving, we have decided to participate in two different types of programs.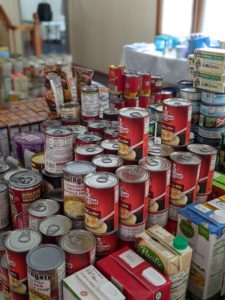 First, with your help we would like to collect items for the F.I.S.H. (Friend I Shall Help) Food Pantry in Carpentersville.
By helping out this organization the donations help the people in our local communities where we live and work daily. The main objective at the F.I.S.H. Food Pantry is to provide a five to ten day supply of food to families in need. However, in some cases, it is necessary to help more often until their situation improves. All the people who work at F.I.S.H. Food Pantry are volunteers, including the officers. The families they serve come from the communities of Carpentersville, East and West Dundee, Sleepy Hollow, and Gilberts, Illinois.
Their clients are primarily:
Families or individuals who need to supplement their food supply on an emergency basis because of loss of jobs, illness or other difficulties.
Lower income citizens, such as senior citizens living on a low fixed income, or single parents who cannot work because of small children at home
Others affected by seasonal layoffs
They also receive referrals from the Department of Public Aid, Dundee Township Supervisor's Office, Churches and Social Agencies. Walk-ins are also helped as needed. In 2016, we provided food for more than 33,000 individuals from over 6,500 families. We also collected and distributed over 6,000 items of clothing. In 2018, FISH helped local families over 6,600 times!
They are accepting all non-perishable foods. Some examples canned fruit and vegetables, canned tuna, canned and instant soup, macaroni & cheese, spaghetti sauce and pasta, peanut butter and jelly, cereals (hot and cold), rice, canned beans, powdered milk, pancake mix & syrup, baby food, cereal & formula (more small containers vs 1 large container is able to help more families). They also accept nonfood items like diapers especially L and XL (in small packages), soap products, toilet tissue, paper towels & tissues, feminine hygiene products, shampoo, deodorant, toothpaste, toothbrushes, etc & clothing- any sizes, in good condition
For more information about this pantry and acceptable items click here to visit the F.I.S.H. Food Pantry Website. All donations will be collected from Monday, November 21 & go thru Saturday, December 17, 2022. This will allow us time to get donations to the Food Bank Before Christmas.
---
The second program we are working with is Lutheran Church Charities (LCC), headquartered in Northbrook, Illinois.
It was founded in 1947 as a 501(c)(3) non profit ministry to help support Christian human care ministries of the Church. LCC works throughout the United States and Internationally bringing the Mercy, Compassion, Presence, and Proclamation of Jesus Christ to those Suffering and in Need. LCC works with and in partnership with our churches. LCC is a RSO (Recognized Service Organization) of the Lutheran Church-Missouri Synod. LCC also has a comfort dog ministry which uses Golden Retriever dogs to open opportunities to touch people with mercy and compassion. The dogs are specially trained to comfort dogs to interact with people in ways that provide a bridge for compassionate ministry to take place. We provide veterinary services for several of the dogs that are involved in the ministry. Some of the many things that the dogs do is: calm a hyperactive child or stimulate a withdrawn patient or older adult, open doors for outreach in the community, bring comfort to individuals and families suffering pain or loss, facilitate conversation and interaction, impact any setting where people gather for celebration, commemoration or comfort.
LCC has also recently branched to Military Veterans with dogs called Kare-9 dogs. We also do the Veterinary Care for the dogs in this area working with this branch of LCC. The LCC Kare-9 Military Ministry is a ministry by veterans for veterans. They strive to serve our military, veterans and their families. In order to do this to the best of our ability, they place a dog – named after a K-9 that gave its life in the service of our country – with a veteran. The dogs begin training as puppies and are trained alongside their veteran. When entering the program the dogs are known as recruits and move up in rank according to the military branch in which the veteran served.
The Kare-9 military dogs visit many places, including VFWs, VA hospitals, Traumatic Brain Injury (TBI) Care Centers, homes of veterans that are homebound, Expos, Vet Clinics, Yellow Ribbon Ceremonies and various other activities to help spread the mercy and compassion of Christ Jesus.
We are working with this organization in two different ways:
First, as a token of our appreciation; we will make a cash donation to the Lutheran Church Charities in the amount of 50 cents ($0.50) for every food item donated to the F.I.S.H. food Pantry.
In addition, anyone else wishing to make a monetary contribution to Lutheran Church Charities will receive an equal amount of credit (up to $20.00) on your account at Spring Hill Veterinary Clinic for future services. We will be accepting the checks at our clinic and they should be made out to "Lutheran Church Charities" and in the memo line put "SVC food & donation drive". For more information on Lutheran Church Charities in general or the comfort dog & Kare-9 ministry and the wonderful ways, the dogs have served in the past year click here to visit their website.